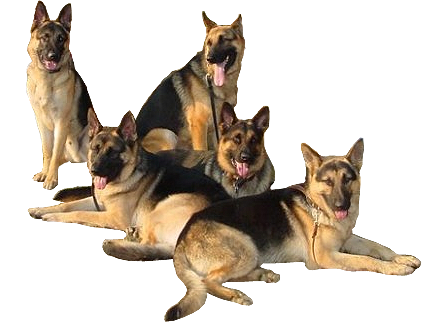 Many people ask us what is the origin of our kennel name. Prufenpuden is simply a play on words, but goes straight to the heart of who we are. Anyone can talk, but the proof is in the puddin'. Over the last thirty five years, our dogs have proven themselves in the home, on the field, and in the AKC Obedience ring. We have been loyal to some of the finest German bloodlines and made them our own. We are now over six generations deep into a German Shepherd Dog breeding program that we started over two and half decades back. Our lines are a combination of West German Show lines and German working lines.
We have found that we get the size and looks from the show lines and the working ability from the competition and police bloodlines. We have also developed our own line of working dogs that are exceptional on the field, but also calm and easy to manage in the home. We specialize in breeding dogs that are first and foremost home companion dogs, but will also make anyone proud to step into competition with if they are so inclined.
Marc represents the third generation of our bloodline. Prufenpuden Kennels has been building over a sixteen year period, being established on the best European bloodlines available to us. Our foundation bitch was Stacia, daughter of Achat von Ollensteiner Fels, and granddaughter of Lasso di val Sol. Stacia was a multi-purpose dog that was talented in many disciplines, such as search and rescue, tracking, obedience, protection, drug work and therapy. She raised five litters of pups, four kids, and one kitten. She was best known for her phenomenal retrieving talent on land, water, and underwater. Stacia died of natural causes a few years back. She died the way she lived, with style and dignity. She lives on in our hearts and memories and continues to be an excellent representative of the true German Shepherd dog.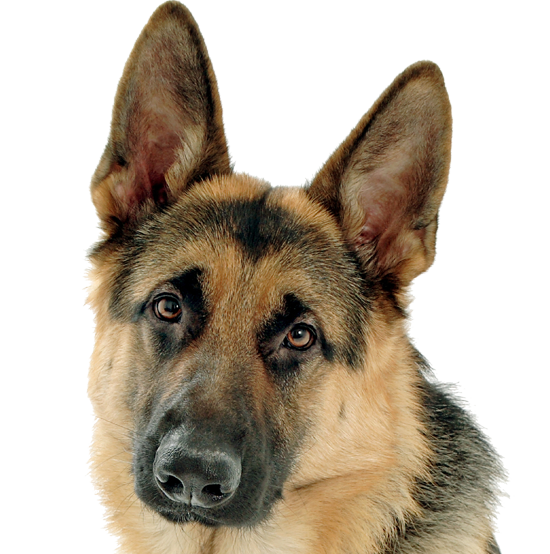 Stacia was bred to V-Quarz von Ulrikenburg, Sch III to produce two excellent pups, Bella and Baylor. Both were sold as pups and titles were never fully achieved; however, breeding rights were secured and we were able to move forward. Bella was bred to 1991 USA Sieger Harko von der Wilhelmswarte and produced Marc von Prufenpuden. Baylor was bred to Emma von Medlenhaus, a Cliff von Huhnegrab daughter, to produce one outstanding bitch, Jesse von Prufenpuden.
Jesse was bred to Marc to produce our fourth generation of German Shepherd stars, namely, Lexus von Prufenpuden, CD, CDX, Xezac von Prufenpuden, CD, and Ramos von Prufenpuden. After considerable research, we have added new bloodlines to our breeding program. Some are complete outcrosses designed to bring back health and vitality to our bloodlines and some will continue our current line breeding off Lasso di val Sol bloodlines.
Dixie vom Kein Ausrede is a Vopo vom Kirschental daughter and is 3-3 Lasso di val Sole and really compliments our foundation bloodlines well. Bred to Marc she has produced many outstanding progeny, but these three really stand out: Santana, W-Jerry Lee and Winny von Prufenpuden they are excellent representatives of our fourth generation and shows we are moving in the right direction with our breeding program.
New bitches were added in 2002 that represent out crosses to our current bloodline and will strengthen our bloodline and allow its continued improvement into the future. The new bitches are Hady von Haus Kiewel, a Belschik von Eicken-Bruche daughter, Julchen vom Rittmeister, an outstanding Fero vom Zeuterner Himmelreich granddaughter with super strong working line influences, and Gayla vom Grunheide, who is a Vedor vom Wildsteiger Land daughter and brings back to our bloodline both Fedor von Arminius and Lasso di val Sole to continue our planned line breeding of those older German conformation lines.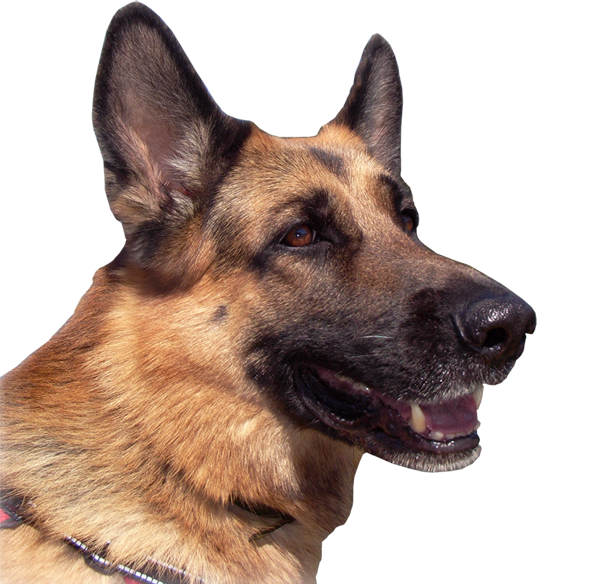 Santana von Prufenpuden represents the fourth generation of our bloodline. He is without question one of Marc and Dixie's finest sons. He has an outstanding temperament rolled into a very attractive body type. Santana is an extremely happy dog, but with a serious streak that makes him an outstanding personal protection dog. Very athletic in build he can run for hours on end with no obvious sign of stress or strain. He has outstanding prey drive and trains well in obedience and protection. His puppies have had deep red pigment and very substantial bone.
Santana's sire is Marc von Prufenpuden, who is a son to 1991 USA Sieger Harko von der Wilhelmswarte. Santana's dam is Dixie vom Kein Ausrede, who is a Vopo vom Kirschental daughter and is 3-3 Lasso di val Sole and really compliments our foundation bloodlines well. Santana's pedigree reflects our continued desire to line breed on VA Lasso di val Sol bloodlines.